There is something for everyone!
Get to know the history of Oregon City and you'll see why this is a very community minded region. Whether you're here for a weekend, long stay vacation or relocating to Oregon City you'll enjoy traveling back in time
and see how far this great community has come from covered wagons to contemporary theatre and vibrant business community and much more. Historic Oregon City is home to several museums and house museums, historic homes and the site of many of the firsts in the Oregon Territory. Modern Oregon City offers shopping, bike riding, hiking trails, bird watching and water sports - including kayak excursions to the base of Willamette Falls.
Trip Planner: Plan your trip using our Trip Planner. Meet our great Chamber members for lodging & travel, shopping, leisure & dining and entertainment. Find out more places to stay, things to do, events and plan your trip with Oregon's Mt. Hood Territory website.
RELOCATION:
Oregon City is a popular place for individuals and families relocating. The Oregon City Chamber can help. We have the best Realtors in the region to help you with all your home purchasing needs. Contact them for your relocation needs. Also, check out our relocation guide "Relocating to Oregon City".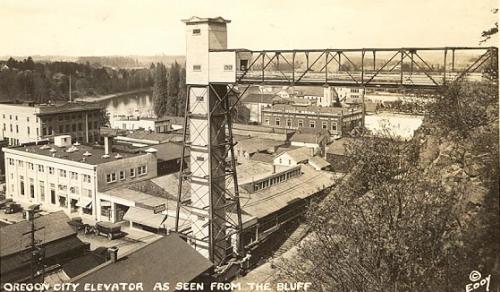 The original elevator in Oregon City built c 1912. The current elevator, built in 1954-55, is a 130 foot vertical street connecting two neighborhoods. OC Elevator is the only outdoor municipal elevator in the US and one of only four in the world.
A penny postcard, postmarked 1908, show grain elevator and Imperial Mills with the backdrop of Willamette Falls in Oregon City.
Map of the Oregon Trail c 1846
The John McLoughlin House museum is a two-story Colonial revival house in a rectangle floor plan. the house is visited by thousands each year from around the world. It was originally built in 1846 in the downtown area and moved up Singer hill to its present location.
The McLoughlin Promenade on the register of National Park Service Historic Places, is a 7.8 acre linear park on the bluff above downtown Oregon City. Hike 2.5 miles, from the top of the elevator to the Museum of the Oregon Territory, and take in the stunning views.
Connecting Downtown Midtown, the McLoughlin Promenade Grand Staircase is worth the time for the steps and the view is magnificent.